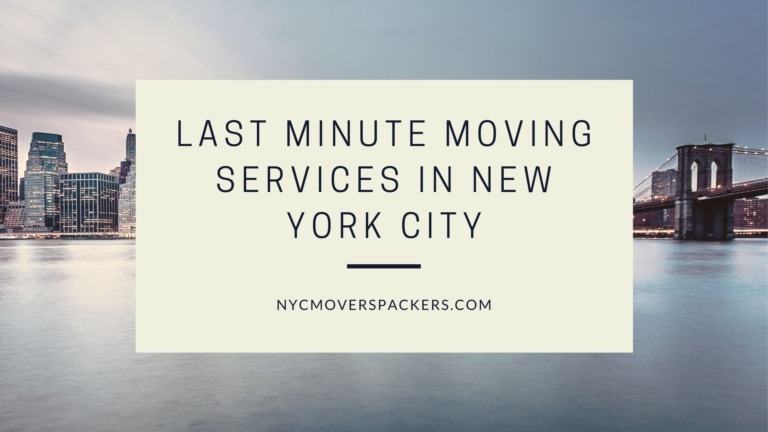 Unless you're accustomed to dealing with pressure and are well organized or prepared, chasing a moving deadline and dealing with all the related tasks can really take a toll on you.  Regardless of the excitement and positive changes in your life that relocating brings, moving can still be a stressful experience, especially if you're forced to move at the last minute i.e., within 24 hours.  With so much to accomplish in such a short time, mistakes are bound to happen.  That's why you need to rely on the last-minute movers services in New York offered by NYC Movers & Packers.
Why do people need to move at the last minute?
Most of us know that life can get complicated sometimes.  There are a number of reasons why people have to plan a last-minute move, especially here in New York City.  It's never easy.  That's why you should contact our same day moving team.  We can have a moving team available to help you make a smooth, stress-free transition.  Here are 5 reasons why you might need our last-minute movers services in New York:
Life happens (you're having difficulties with your roommate, you've received a last-minute job offer, you're breaking up with your partner, etc.)
The company you originally booked your move with pulled a "bait and switch" on you
The company you originally booked your move with didn't show up
You have unresolvable issues with your landlord or property manager
Your apartment has become uninhabitable
As your last-minute moving team, NYC Movers & Packers we are committed to solving your same day moving dilemma.  Click here for information now.
Why should you hire a moving company instead of try to move at the last minute by yourself?
Our full-service last-minute movers in New York understands how people don't have enough time to prepare for a move when forced out of their apartment on short notice.  You need help getting furniture disassembled, packing your belongings, and with a number of other moving-related tasks.  Whenever this happens to you, our company is only a phone call or text message away.  As a full-service moving company, we can handle anything related to your move, even on the same day you contact us.
Circumstances can quickly change in a person's life.  The fact that things are always in a state of flux is one of the very few constants in life.  Just because you've been forced to move at the last minute, it doesn't mean that you should be charged ridiculously high fees by a rogue moving company.  Chances are, you won't get the quality of service you paid extra for.  While there may be a slight upcharge for our services as last-minute movers in New York, NYC Movers & Packers will try to accommodate your budget.
Do you need to store your belongings?
Our last-minute storage options are the ideal option for people who have to vacate their apartment but haven't yet found another place to live or their new place won't be ready for several days or even weeks.  Just keep in mind that we offer this option when you need a temporary storage facility for your possessions.  This is just another service we provide in order to alleviate your stress. You can be sure that at the most affordable prices, your possessions are kept safe for a specific time period. Now you don't have to worry about leaving your possessions with friends or family or about it getting damaged.
How much does it cost for a same-day move?
Needless to say, no two New York City moves are ever alike and neither are the moving services you hire.  Consequently, there's no one-size-fits-all moving cost.  NYC Movers & Packers consider the following factors when providing our last minute movers services in New York:
amount of furniture you have to move
ease of access (elevator vs. stairs, long walk from moving truck, parking, etc.)
moving services required (disassembly and reassembly of furniture, packing and unpacking belongings, etc.)
number of moving boxes
Naturally, you'll need to do some comparison shopping if time permits and get price quotes from several companies.  In most cases, NYC moving companies will charge by the hour or a flat-rate.  Based on industry statistics, it will cost between $500 and $700 for moving a studio apartment up to $1,500 or more for a 3-bedroom apartment.  We are counted among the most affordable movers with excellent customer service.
Thus, if you are still looking for last minute movers, you can be sure that we can make your move quick and easy as we take on the full- responsibility. For more information about our last-minute movers' services in New York, call NYC Movers & Packers at your earliest convenience.