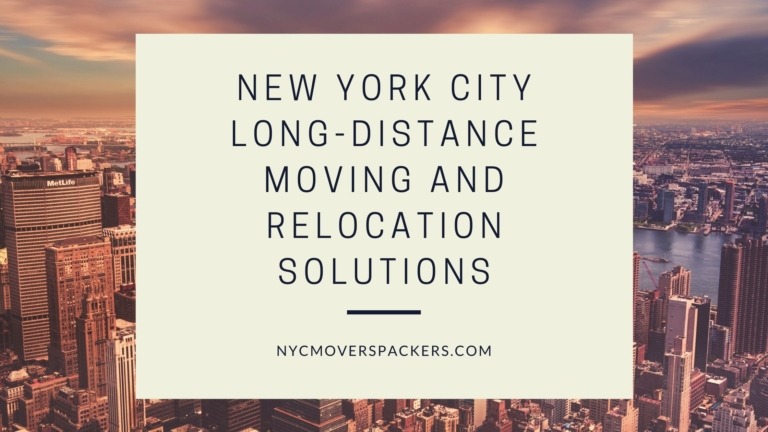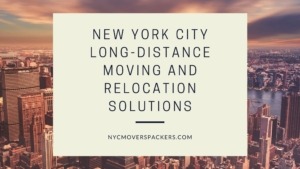 Moving long-distance without the help of a professional moving team can be extremely difficult when you consider how the services of long-distance movers in New York offered by NYC Movers & Packers can make your life a lot easier.  When moving long-distance, your life is about to undergo a dramatic change.  Consequently, planning such a move can be extremely stressful.  We approach long-distance relocations in a way that will relieve any anxiety you may be feeling throughout the entire process.
How does the long-distance moving process start?
The process involved with an interstate move starts with a moving cost estimate that one of our relocation specialists conducts in your home.  We evaluate the number of items that are going to be transported to your new location to ensure giving you the most accurate estimate possible.  There won't be any unpleasant surprises such as additional charges or hidden fees after you've been given a quote.  Additionally, NYC Movers & Packers only stop at the most secure locations along the way.  This ensures that your items will be safe and secure from Point A to Point B. We always ensure that while loading the boxes, adequate care is taken so that no fragile item is put on the bottom and heavy boxes piled on top of it.
Are there certain qualities you should look for when choosing a long-distance mover in New York service?
Absolutely!  Whether you're moving a small apartment full of belongings or a multi-bedroom household, you should research several moving companies that do business in the NYC area.  This is the only way to ensure getting the best value for the money you're about to spend.  Consider the following:
Get recommendations from family members and friends you trust
Check out company reviews based on client testimonials and BBB documentation
Look for a successful track record
Check their credentials; make sure they are fully bonded, insured, and licensed
Select a company that offers the most competitive rates for the services provided (NOTE: competitive doesn't mean "cheap" or "cheapest")
Choose a long-distance mover in New York service that can accommodate your specific moving and relocation needs
You'll quickly discover that NYC Movers & Packers meets all of those requirements and you won't have to waste any more time searching for a moving company.
What services should you expect from a full-service long-distance mover?
There are a number of important factors to consider when choosing a long-distance movers New York service.  Hiring a professional moving team ensures that the entire moving process will be as stress-free as possible.  Our services go beyond just doing the heavy lifting and loading our moving trucks.  We provide several other moving and relocation services as well including:
creating a moving checklist so that nothing gets forgotten or overlooked
disassembling your heavier furniture items such as beds, entertainment centers, etc. and reassembling these pieces in your new home
helping with packing and unpacking your belongings
lining out the travel route from your existing home to your new location (this helps to keep moving costs down)
providing all packing materials and supplies
We'll even help you dispose of all the used boxes and packing materials if requested.  We offer these different long-distance movers in New York services at NYC Movers & Packers so our customers will have peace of mind knowing their furniture and other belongings are in competent and trustworthy hands. You can be assured that all your possessions will be taken be taken care of when packing, loading and moving. This including ensuring that all fragile items are loaded carefully so that there is no damage during transit.
How much does a long-distance move cost?
Hiring a professional moving team for a long-distance move will cost anywhere from $2,500 to $5,000 or more depending on the distance and size of your move (how many belongings you have).  Furthermore, there a number of other factors that can influence the cost of your move such as the moving services you need and the time of year that you decide to move.  Based on historical pricing information and national averages, the chart below will give you a better idea of what your move could cost:
| | | | |
| --- | --- | --- | --- |
| ////////////////////////////////// | 1 Bedroom | 2 to 3 Bedrooms | 4 to 5 bedrooms |
| Less than 50 miles | $240 to $675 | $710 to $1,400 | $1,100 to $4,900 |
| 250-1,000 miles | $800 to $2,300 | $1,400 to $3,950 | $2,050 to $4,700 |
| 1,000-2,500 miles | $950 to $2,900 | $2,100 to $7,800 | $4,900 to $8,100 |
| 2,500+ miles | $1,300 to $3,800 | | $8,400 or more |