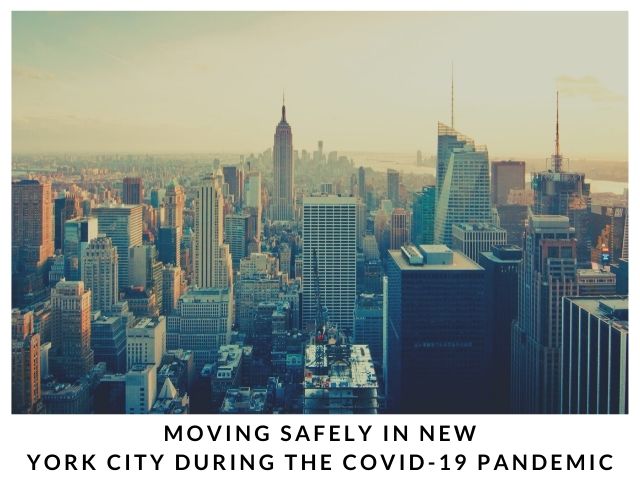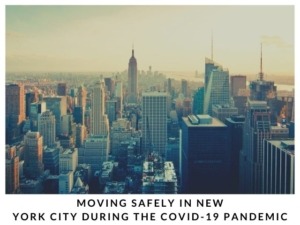 Whether you're moving out of New York City or just to another apartment building down the block, you definitely want to take precautions to ensure moving in NYC safely during COVID-19.  Since March of 2020, moving companies like NYC Movers & Packers have been categorized as "essential" businesses or services, meaning that residential relocations can continue as normally as they can during these times.  Thus, if you need to move, you can do so legally, provided you make a few smart adjustments.
How can we help with your residential move in NYC?
Our moving specialists have been helping couples, families, and individuals move for a number of reasons including those of a financial nature, leases expiring, or just wanting to be with other family members during the pandemic.  Even before things started re-opening throughout the 5 boroughs, people were moving from their current residences to new locations within the city.  Most of them were well aware of the difficulties involved when trying to find the right apartment here in NYC.
What advice can we provide for moving in NYC safely during COVID-19?
NYC Movers & Packers has been continually vigilant about our customer's health and safety as well as our employees during these unpredictable times.  We have ensured that our business offices, moving equipment, storage facilities, and trucks are regularly sanitized for everyone's protection and well-being.  All our crew is experienced and trained in following the protocol required for safety during the pandemic. Proper hygiene standards are maintained so that you and our crew stays safe.
Based on our experience and what we've done during the COVID-19 pandemic, here are some helpful suggestions for moving in NYC safely during COVID-19:
Before the movers arrive, have one of our specialists explain what precautions we will be taking regarding managing sanitization and social distancing while on the job.
Have all packing materials and supplies delivered if you don't want the hassle of going out to purchase them.
If you prefer, NYC Movers & Packers can supply boxes, bubble wrap, packing tape and other supplies in our moving day services for a small additional fee.
Practice CDC recommended protocol when preparing for your move by disinfecting everything that you pack before our team arrives to start helping with your move.
If you've stocked up on non-perishable foods, determine how to pack them and either take them with you or give them away as we are not allowed to transport any food items when helping you move.
Remember to practice social distancing at all times while the NYC Movers & Packers team is assisting you on moving day.
If the opportunity arises, make sure your new home is cleaned and sanitized before the move-in date. Then on moving day, be sure that everything, especially high-touch surfaces is cleaned and sanitized when the movers arrive and start unloading.
Additionally, COVID-19 bacteria can survive on cardboard for up to 24 hours.   So, if you want to ensure moving in NYC safely during COVID-19 we suggest you wait until the next day before you start unpacking everything in boxes.
Why should you choose NYC Movers and Packers when relocating in NYC?
It goes without saying that there are dozens if not hundreds of moving companies in New York City.  So how do you know you're choosing the right one? You need to do plenty of research and be careful when making your choice.  It's a matter of choosing a company that exhibits the best qualities and provides the greatest value for the money invested (a.k.a. more bang for your buck).  Here are reasons to choose our company when moving in NYC safely during COVID-19:
WE are a full-service moving company which means we will perform every task that's associated with your relocation.
WE are familiar with the layout of all 5 NYC boroughs and can choose the best route to your new home.
WE have the right moving equipment for any type of move large or small.
WE can save you time and possibly money compared to doing the move yourself.
WE can handle all of the challenges of moving in New York City including the heavy traffic, lack of elevators in older apartment buildings, and the many driving and parking regulations and restrictions.
Most importantly, we help with all the planning and preparation to ensure moving in NYC safely during COVID-19 and alleviate your stress. We know how difficult it can be to do everything during the move and that is why we can step in when needed. Irrespective of whether you need full-service or just partial services, we are here to help you.