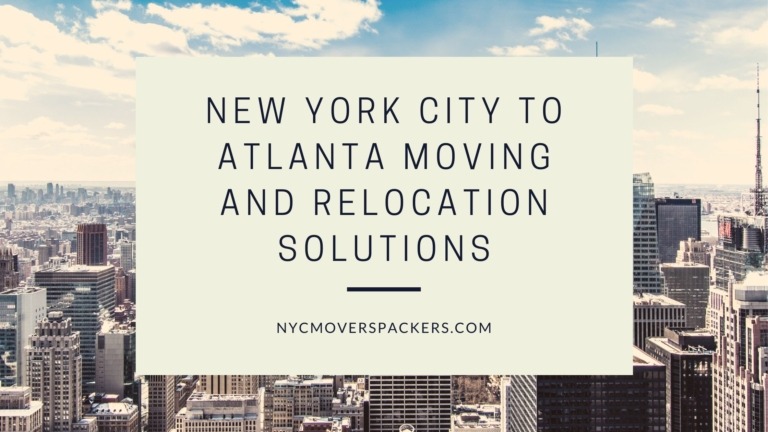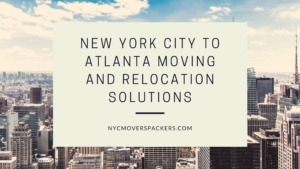 Recent research has shown that New Yorkers are moving out of the Big Apple in large numbers and one of their favorite relocation destinations is in the Deep South, namely Atlanta, GA.  In fact, many New Yorkers have relied on NYC Movers & Packers to help them with their transition to the city that many Georgians are now referring to as the "New York City of the South."
What is causing people to leave NYC in record numbers?
Over the past few years, more people are moving out of the Big Apple without gaining similar numbers of newcomers.  In some cases, people desire a new lifestyle while in others, it's the search for a new career.  However, there are other key reasons why people want to find the cheapest way to move from NYC to Atlanta.  Here are the 4 top reasons why people are leaving NYC:
The crowds and the noise – there's a reason New York City is called the "City that never sleeps." With the vast number of dining and entertainment venues, there's no such thing as a bedtime in NYC.
Family planning – the primary reason that married couples and newlyweds don't stay in the city is because they want to raise a family, but not here. If you have a steady source of income and no financial issues, you might get lucky and find a good school in NYC to enroll your children in.
High cost of housing and living – if you want to buy a home in the greater NYC area, you better have about $2 million. Furthermore, renters often pay up to $5,000 or more for a high-rise apartment residence.
New career opportunities – finding a job in NYC is relatively easy . . . if you're in the banking or finance industries. As far as other jobs are concerned, competition is fierce in the Big Apple.  If you want to find a job here, you'll an incredible resume, strong connections, and a ton of patience.
If your plans to leave the city are already in the works, you've probably been searching for the cheapest way to move from NYC to Atlanta.  That's where NYC Movers & Packers can help.  We offer some of the most competitive moving rates in the industry.
Why are many New Yorkers moving to Atlanta, GA?
It's no secret that many New Yorkers have decided that Atlanta is the place to be.  In fact, Atlanta and the state of Georgia are among the top relocation destinations in the U.S.  When you consider the following reasons why so many people have moved to Atlanta from New York City and other places, we can understand why people get so excited about doing so:
Climate – despite the warmer, more humid summers, Atlanta's winters are milder and shorter than those in New York City. Additionally, residents enjoy 4 distinct seasons here in Atlanta.
Cost of living – NYC's cost of living is 3 to 4 times higher than it is in Atlanta. A home here costs around $500K whereas one in NYC will cost $2 million or higher.  If you rent, you can expect to pay 1/5 of what you did in NYC.  You'll quickly find that groceries, healthcare, and utilities are cheaper in Atlanta.
Excellent neighborhoods – Atlanta features a number of excellent communities and subdivisions within the city. There's an unparalleled variety of charming neighborhoods here as well, most of which are within walking distance of dining, entertainment, and shopping venues.
Thriving economy – Atlanta is home to 16 different Fortune 500 companies including Coca-Cola, Delta, Home Depot, UPS, and others. Companies like these have helped to build a stable job market and employ thousands of individuals.
Looking at all the benefits of moving to Atlanta as compared to living in NYC, we know why the thought is alluring. Consider us as your movers for the impending relocation. We understand the cityscape of New York and would be glad to be of assistance to help  you move to Atlanta.
What is the cheapest way to move from NYC to Atlanta?
Although you may be thinking that a DIY move is the cheapest way to move from NYC to Atlanta, you might be surprised to find out that hiring professional movers like NYC Movers & Packers could result in significant savings in the long-run.  Based on past history and national averages as well as the size of your current home, the cost to move from NYC to Atlanta will be between $3,500 and $6,000 with the average being $4,000.
We understand the stress related to relocation and know that trying to do it all on your own is difficult. To learn more about the most affordable way to move to Atlanta from NYC, contact NYC Movers & Packers today.