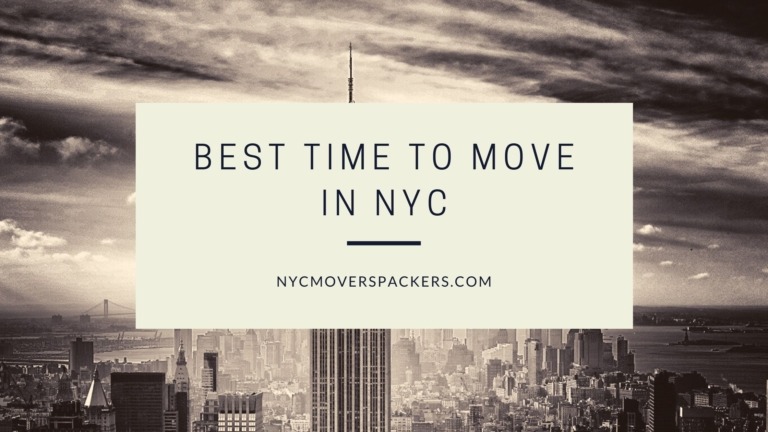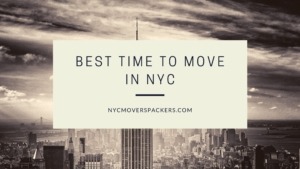 If you've decided to move to another apartment or full-service building in New York City, NYC Movers & Packers offers high-quality moving services that can be tailored to your specific needs and requirements.  There are a lot of factors to consider when choosing a moving company as well as how much it will cost you to move locally in one of the five boroughs of NYC.  However, it's important to know the best time to move in NYC since this can influence the cost of moving locally as well as long-distance.
What are the challenges that moving companies face in New York City?
As with any other business, moving companies are concerned about their bottom line and how it's impacted by their daily operations.  However, when it comes to moving companies, NYC Movers & Packers are always concerned about and focused on the difficulties of moving someone from Point A to Point B.  Knowing the best time to move in NYC helps to alleviate these challenges.  Here are 4 moving challenges that we are always concerned with:
City regulations – because New York City is known for its strict regulations, there are a number of licenses that moving companies must have in order to operate legally. This includes having a moving license from the NYC Department of Transportation.  As a result, ensuring that these licenses are always up to date can be a tedious endeavor.
Fewer elevators – despite the number of apartment buildings in the city, many of them are so old that your only option for getting furniture to an upper level is a stairway. Many buildings were constructed prior to the existence of elevators.  Consequently, the NYC Movers & Packers team must contend with moving heavy pieces of furniture up and down numerous flights of stairs.
Traffic congestion – heavy traffic is, without a doubt, one of the biggest concerns for moving companies in NYC and not the best time to move in NYC during the day. Although we try to meet every moving deadline possible, it's not so easy to do when you're trying to navigate a heavily congested city street.
Weather conditions – as if the heavy traffic, strict regulations, and a lack of elevators weren't enough for our moving company to contend with, unpredictable weather is often a factor to contend with. Being situated on the Atlantic coast often brings weather-related challenges including last-minute cancellations.
This is one of the key factors that come into play when you want to make the move smoothly. Trying to do it all on your own will not help as there are plenty of loose ends to tie up before you can actually transit. Fortunately, the NYC Movers & Packers team has adapted well to these challenges and continues to learn more about overcoming them on a day-in and day-out basis.
When is the best time to move in NYC?
It goes without saying that moving in New York City can be a daunting task at the very least.  Believe it or not, the cost of moving is influenced by the time of year that you decide to move.  When choosing your moving date, we recommend you follow these guidelines and suggestions regarding the best time to move in NYC:
Avoid moving in late spring and summer (typically the end of May up to Labor Day)
Don't move on the weekend
Move before noon
Move during the middle of the month (there's more demand at the beginning and end of the month)
Additionally, if you're searching for better deals on moving options, more flexibility when signing a lease, and less stress, wintertime is always the best time to move locally in New York City. You can call us to know more about the queries you may have and get the answers.
How much does it cost to move locally in New York City?
In addition to knowing the best time to move in NYC, it's important to understand the factors that influence the cost of moving locally in the city.  You can get an idea if you visit our website and click on "Get a Quote" on the home page.  These factors include the number of movers needed, size of your household, and time of year you're planning to move.  Based on apartment size, the average costs to move in New York City are as follows:
| | |
| --- | --- |
| Apartment size | Moving costs |
| Studio | $420 to $700 |
| 1 bedroom | $700 to $1,100 |
| 2 bedrooms | $1,100 to $1,500 |
| 3 or more bedrooms | $1,500 and up |
To learn more about the best time to move in NYC or to schedule an on-site estimate of your moving costs, call NYC Movers & Packers today. Call us today to know more about how we can be of assistance in planning and implementation of the move.