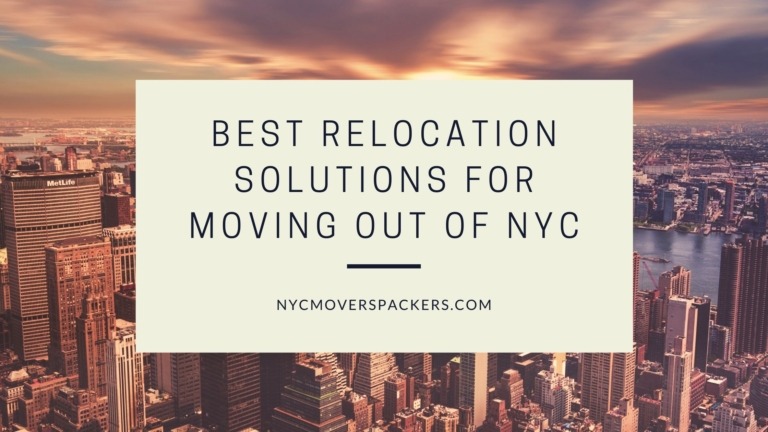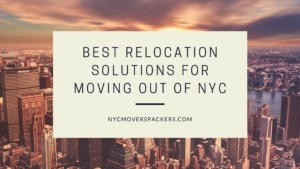 If you're wondering where to move after NYC life, you should consider all your options when it comes to choosing the right moving company for the job.  There are literally hundreds of moving companies to choose from in the greater NYC area.  However, not all of them are full-service moving companies like NYC Movers & Packers.
Why are people moving out of the Big Apple?
Over the past couple of years, increasing numbers of families and individuals have been leaving NYC.  Based on lifestyle and personal preference, there are several reasons why people are leaving the city.  If you're thinking about moving from New York City, we may be able to assist you in the decision-making process.  The following is a list of the top 4 reasons for this growing migration out of NYC:
High cost of living – as appealing New York City life appears to be, it carries a hefty price tag. Furthermore, this makes it extremely difficult for anyone to save money on a regular basis.  So, despite the fact that many people move into the city, there are more who decide to leave it.
Job opportunities – although NYC is the ideal place for people seeking a career in banking and finance, many individuals struggle to find careers in the fields they are most experienced in.
Large crowds and lots of crowd noise – there's no better description than "the City that never sleeps" when it comes to New York City. Many newcomers aren't prepared for all the crowds and the noise level that accompanies them.
Planning a family – when planning a family and raising children, NYC has its pros and cons. You might be able to your children with a good life and find a good school for them if you have a steady income and no financial problems.  However, this isn't one of the safer cities where the environment is concerned. Thus, you will need to weight out the pros and cons before you take any decision.
Whether you're planning on moving locally or long-distance, you'll be moving those items that are important to you and your family.  Once you decide where to move after NYC life, it's important to hire a reputable and trustworthy full-service moving company like NYC Movers & Packers. We'll not only take care of your goods- packing and moving them but if you need additional services such as short or long term storage, we can help you.
What are the best cities to move to when leaving New York City?
Maybe you've grown tired of the hustle and bustle or you just want a quieter life.  Or maybe you want to pursue a different career in another city besides NYC.  Whatever the reason, deciding where to move after NYC requires a lot of thought.  One way or the other, you're looking to improve your life without incurring any negative consequences in the process.  Based on the results of recent studies and surveys, the following is a list of the top 5 cities that New Yorkers move to when leaving the city:
Austin, Texas – believe it or not, the capital of the Lone Star State has plenty of dining and entertainment venues to satisfy the most discerning tastes.  Consequently, it has become a popular relocation destination of many New Yorkers.
Cincinnati, Ohio – pursuing a new career path is one thing, but ensuring that your family is comfortable and safe where you live is another story entirely.  Despite the fact that Cincinnati has a higher cost of living than Austin, it's still more affordable than NYC.
Minneapolis, Minnesota – this city has continually been a favorite destination for individuals who want to know where to move after NYC has been their home for many years.  If you want a more affordable life in a relatively large city, Minneapolis is the place to be.
Seattle, Washington – more employment opportunities have arisen here than many other states.  Amazon, Microsoft, Starbucks, and a number of other large corporations are headquartered here.  No matter what your interests or passions, you can probably find a more suitable job in Seattle.
Tampa, Florida – your quality of life is dependent on the neighborhood you choose to reside in.  There are dozens of neighborhoods to choose from in Tampa.  However, you want have to tolerate the level of city noise here that you did in New York City.
Though you may have already decided on your choice of location, these options can help you take the right decision. For information about the cost of moving out of New York City and where to move after NYC life, contact NYC Movers & Packers and schedule an in-home estimate. Call us today.