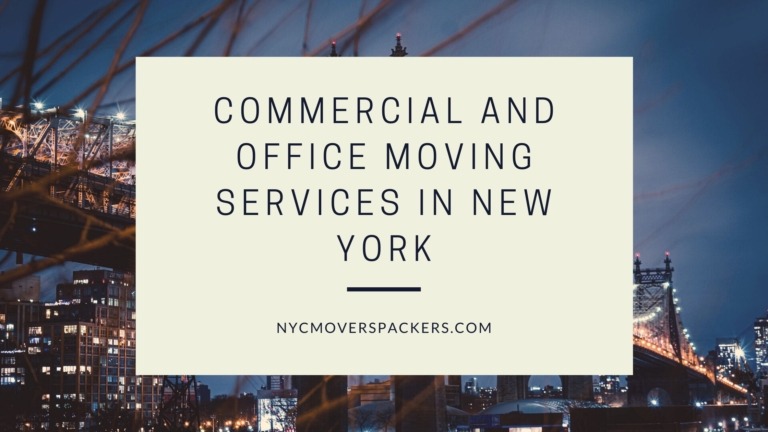 As a full-service moving company, NYC Movers & Packers specializes in commercial and office relocations.  When moving your office, we will ensure that you experience as little downtime and interruptions to your daily operations as possible.  We understand how a loss of productivity can hurt a company's bottom line.  Our office movers' team in New York will work around your schedule to ensure the smoothest transition possible when relocating your company to its new location.
How does an office relocation differ from a household move?
Although the concept is similar, there are several significant differences between an office relocation and moving a household.  As a business owner or office manager, it's important to understand these differences.  You're under enough pressure just trying to stay in business and make a profit.  Knowing these differences will help alleviate your stress rather than adding to it.  Consider the following when hiring NYC Movers & Packers to help you move your office:
Household moves – when compared to a business or office relocation, moving a household is less complex and much easier. In most cases, a residential move can be done with minimal labor involved.  Furthermore, you can unpack your belongings and get settled into your new home at your own pace.  The only concern you have is making sure that your furniture and belongings arrive safely and undamaged.  Consequently, the biggest challenge of a residential move is the handling of fragile and valuable items.
Office relocations – whether you're moving a small retail shop or a large corporation, moving a business is a complex process that requires an experienced team of professional office movers in New York. As was mentioned earlier, an office relocation needs to be quick and precise in order to minimize downtime and the loss of productivity.  The ideal scenario is to have your office furniture moved in by NYC Movers & Packers by the time you and your employees need to move in.
Unlike residential moves, commercial moves typically involve moving computers and other electronics as well as sensitive files and materials.  Our movers take these factors into consideration when assisting with office relocations.  Furthermore, we coordinate with leasing agents and/or property managers to ensure that your move is stress-free and goes as smoothly as possible.
Why is it important to hire experienced office movers in New York?
The assistance of a commercial moving team when relocating your business, office, or warehouse can be invaluable for a number of reasons.  Office moves are considerably more complex and stressful.  The following is a list of reasons why you should always hire a commercial moving team and not residential movers when moving your office to a new location:
Because you will experience very little disruption to your daily operations, our movers can save your money and time.
Every member of our commercial moving team is fully bonded, insured, and licensed.
Having our office movers in New York handling your relocation tasks ensures that none of the important aspects are overlooked.
One of the main benefits to hiring NYC Movers & Packers and our office movers team in New York is the efficient, systematic process involved in moving your office.
Our commercial movers have the expertise and skills required to pack your costly office items properly and efficiently.
We'll provide a FREE on-site estimate so you know exactly what your office relocation will cost up front so you won't have to worry about additional charges or hidden fees.
When you hire NYC Movers & Packers, it will enable your employees to focus on their responsibilities and not worry about moving.
You'll be working alongside certified and skillfully trained professionals that have years of commercial moving experience.
How much will it cost to move your office?
As with a residential move, there are certain factors that will influence the cost of your office relocation.  Here is general idea of the costs involved based on the square footage of your office:
1,500 square feet – $1,000 to $4,500
3,000 square feet – $1,500 to $9,000
10,000 square feet – $5,000 up to $30,000
There could also be additional charges for hiring a moving consultant, long carries, packing and moving cables, shuttling boxes in elevators or up stairways, and so on. We know that every move is different and so are specific requirements. That is why we cater to your personalized requirements.  All that you need to do is let us know and we'll help you with all and any aspect of the relocation process.