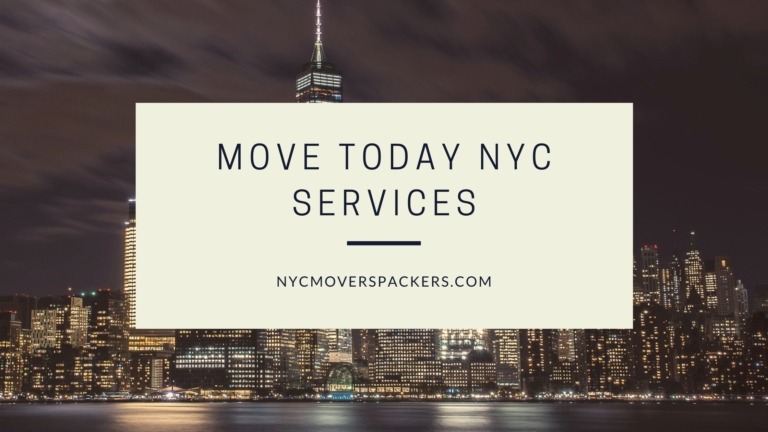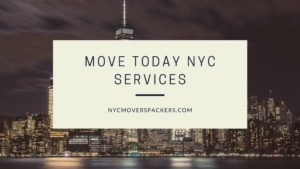 Most people are fortunate enough to have sufficient time to plan their relocation well in advance of the moving date.  There's so much to think about such as finding a moving company, having everything ready to go when the movers arrive, making sure that the weather will be cooperative, and so on.  After all, researching these factors is a part of the relocation planning stage.
However, when unfortunate circumstances arise and you don't have that time cushion to fall back on, you have to find a mover that offers move today services in NYC.  That company is NYC Movers & Packers.  As a leader in the moving industry, we have faced numerous challenges when helping people move at a moment's notice.  You can be assured that we are here to help and sort out all the confusion and frustration.
Why do people need our move today services in NYC?
While relocating requires considerable time planning such an event, there are a several reasons why people contact us for an immediate move.  The following will help you understand why some people need or want to move as quickly as possible:
You're going through an unexpected break-up with your partner – granted, most break-ups are unexpected, but some can really catch you off-guard. If you were sharing an apartment with your partner and they've asked you to move out as soon as possible, organizing your thoughts about moving could be difficult.  No matter what, keep a level head on your shoulders and contact us for help moving out of that situation immediately.
You've had an unresolvable dispute with the landlord or property managers – if, for whatever reason, you've been evicted or forced out of your apartment, you'll need to contact NYC Movers & Packers about our move today services in NYC. Regardless of who was right or wrong and what the law says, you have to move and you have to move NOW.  Just try to avoid any conflict and start packing.  We'll help with the rest.
Your apartment has become unsuitable to live in – sometimes accidents happen, sometimes extensive damage occurs, and sometimes recklessness is the cause. It doesn't really matter.  Whether it's a fire, flooding, a gas leak, or termites, you need to get out of that apartment and you need to do it ASAP.  One way or the other, you may not have a lot of belongings that can be moved with you. We'll help you with the rest. We know moving immediately can be extremely stressful, but call us and we'll make it a breeze.
Any time you have to move unexpectedly, it can be a life-changing event.  We understand the stress you might be under while trying to go about your everyday life and sorting, packing and planning the move. When there's no time for sufficient planning, our move today services in NYC will help to alleviate your stress and make as smooth a transition as possible. Our crew is well-versed on all aspects of the relocation process and can help you at every step so that it is an easy transition.
What do you need to do first?
While this may sound like a foolish question, stop and think about this for a moment.  If you've started to panic, you'll be tempted to go online and Google a moving company that offers same day moving services.  This is a mistake.  Why? Because you probably haven't had time to think about where you're going to go and what to tell the company you contact.  You have no idea how much there is to move or when it can be picked up.
Rushing around will only cause you to make mistakes and waste valuable money and time.  So, what should you do first? Before you call NYC Movers & Packers to hire our move today services in NYC, think about where you're going to go.  Your destination is important whether it's a friend's home, a hotel, or out of the city.  Second, you need to know how many items are moving with you.  This type of information is critical and will help us determine what we need to provide on our end.
How much does same day moving cost?
NYC Movers & Packers offers some of the most competitive rates in the moving industry today.  The key factor that will influence the cost of a same day move is the distance, moving services required, and how many items you have to move.  In New York City, short-distance moves typically cost between $300 and $500 if you're moving out of studio or small 1-bedroom apartment.  However, that is an average and the cost of your move could be higher.