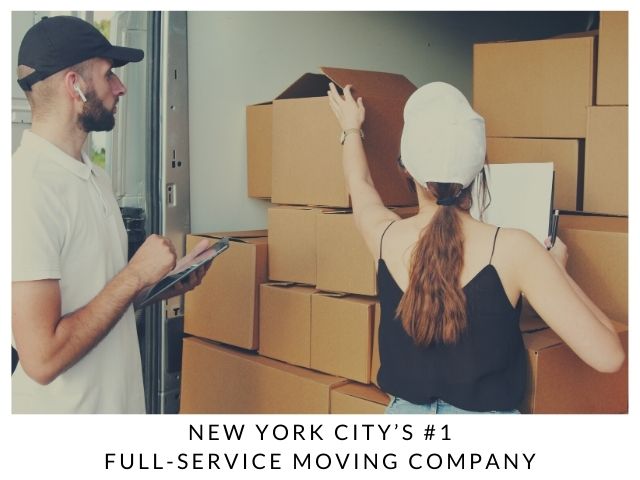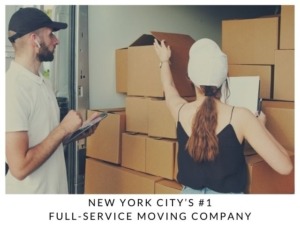 NYC Movers & Packers is a full-service moving company that is dedicating to helping families and individuals with their moving and relocation needs.  Whether you're moving across the street, across town, across the state, or across the country, our goal is to provide you with a stress-free moving experience from start to finish.  Our process starts with an in-home estimate of your moving costs as well as a customized moving plan that is tailored to your specific relocation needs.
Our experienced full-service movers in New York City will also make recommendations and provide helpful tips that will help in the planning and preparation of your move.  On moving day, you can expect our courteous moving specialists to arrive at your home on time.  We'll start disassembling your bulkier furniture items and help you with packing your belongings.  Once we have our truck loaded with everything, we'll arrange the date and time for us to arrive at your new home with all your belongings safe and secure. You can be sure that we'll keep you updated as strong communication with clients is our forte.
What should you expect from a full-service moving company?
As a full-service moving company, NYC Movers & Packers handles everything involved with your move.  This will enable you to focus on the more important aspects of your relocation.  Our full-service movers in New York City are the ideal solution for those individuals cannot handle moving on their own or simply don't want to tackle such an enormous job on their own.  Basically, we'll do everything you need us to do where your move is concerned.  Here's what you can expect from our team:
All packing and moving materials supplied by us
Help with packing your belongings
Disassembling your larger, heavier furniture items in order to ensure that they are safe and secure in transit
Loading our truck, transporting your furniture and belongings to your new home, and unloading the truck once we arrive
Reassembling your furniture items
Helping you unpack your belongings
Disposing of all used packing materials and debris from the move
Basically, if it has anything to do with your move, the NYC Movers & Packers team will take care of it.  You decide on the moving and relocation services you need and we'll handle the rest. If you need temporary storage for extra boxes, we'll be able to assist you. Let us know if you need additional assistance and right from packing to storage, we'll help.
How much will it cost you to hire full-service movers in New York City?
When you're planning your move, the last thing you need are any unpleasant surprises such as additional charges and hidden fees.  Having an accurate estimate is vital to helping you plan your move and save money in the process.  In order to get a better idea of what you'll be paying for your move when hiring NYC Movers & Packers, you'll need to know the factors that can influence the cost of it.  Here are several to be concerned with:
number of movers required
distance of the move- intercity, intrastate or international
Additional moving services required
size of the move
time of year you plan to move
While these are the primary factors that can influence the cost of your move, there are other costs and expenses you may have to be concerned with.  These include the cost of accommodation when traveling to your new location, moving insurance, and vehicle shipping costs if you aren't driving multiple vehicles to your new home.
Based on customer reviews and national averages, the following chart will give you an idea of moving costs based on the distance and size of the household:
| | | | |
| --- | --- | --- | --- |
|                   | 1 Bedroom | 2 to 3 Bedrooms | 4 to 5 Bedrooms |
| 50 miles or less | $250 to $700 | $700 to $1,400 | $1,000 to $2,500 |
| 250 miles | $800 to $2,400 | $1,500 to $4,000 | $2,000 to $5,000 |
| 1,000 miles+ | $1,000 to $3,000 | $2,200 to $8,000 | $5,000 to $8,500 |
| 2,500 miles+ | $1,300 to $4000 | $3,500 to $8,000 | $8,500+ |
Most of these figures are based on national averages and customer reviews.  However, each case is different and we give a customized solution for your moving needs. Thus, call us for an in-house evaluation and we'll provide you with a written quote.
Why should you hire our full-service movers in New York City?
Whether it's a commercial or residential relocation, you need to know that the company you're hiring is reputable and trustworthy.  Furthermore, experience, expertise, and professionalism can mean the difference between an enjoyable moving experience and a relocation nightmare.